Our articles may contain affiliate links. If you buy through these links, we may earn a small commission. Prices are correct at time of publishing.
By Delfina Utomo Published September 22, 2023 Updated September 25, 2023 Bookmark Bookmark Share WhatsApp Telegram Facebook Twitter Email LinkedIn

Gua sha is a traditional treatment that involves gently scraping or pulling a flat jade or rose-quartz stone along the skin to relax facial muscles, boost circulation, and encourage lymphatic drainage. In the ever-spinning wheel of trends, this ancient Chinese practice is enjoying a new wave of appreciation by a wider audience. Particularly, TikTokers who've caught on to this latest trend and claim that gua sha helps 'shape' the face too to give you sharper and more pronounced angles, and are incorporating a facial gua sha massage at home as part of their morning skincare routine.

But what is facial gua sha and does it actually work? We talked to Yao Wei Ling, resident physician from Kin Teck Tong, a homegrown Traditional Chinese Medicine (TCM) brand which started in 1967. Today, Kin Teck Tong has 10 TCM clinics islandwide and some of the services provided include facial gua sha treatment and body gua sha for targeted areas or for general wellness.
Gua sha 101
There are two main types of gua sha: one for the body and one for the face. While traditional body gua sha often leaves bruise-like markings along its trail, facial gua sha involves a much gentler technique.
The point of facial gua sha is to stimulate the dermis layer of the skin to improve elasticity and release the tension to relax your facial muscles. It's typically done by scraping a flat piece of jade or rose quartz on your face in upward strokes. This is supposed to relax stiff muscles and promote tissue drainage.
In TCM, gua sha is believed to move blood and Qi. The scraping motion is believed to stimulate facial meridians (energy channels found throughout the body), dispelling excess fluid from the face and helping to detox. On top of that, facial gua sha can give you a "natural radiant glow" by increasing blood circulation and aiding lymphatic flow.
Want to try it for yourself? We've got a step-by-step guide below, but first, you'll need the tools.
Facial gua sha tools to buy:
Gua sha & massage stick face roller for face – Certified Jade
Jade gua sha set, $18.89, Buy it from Amazon
Rose quartz Gua Sha and Face Roller Set
Rose quartz gua sha set, $12.15, Buy it from Shopee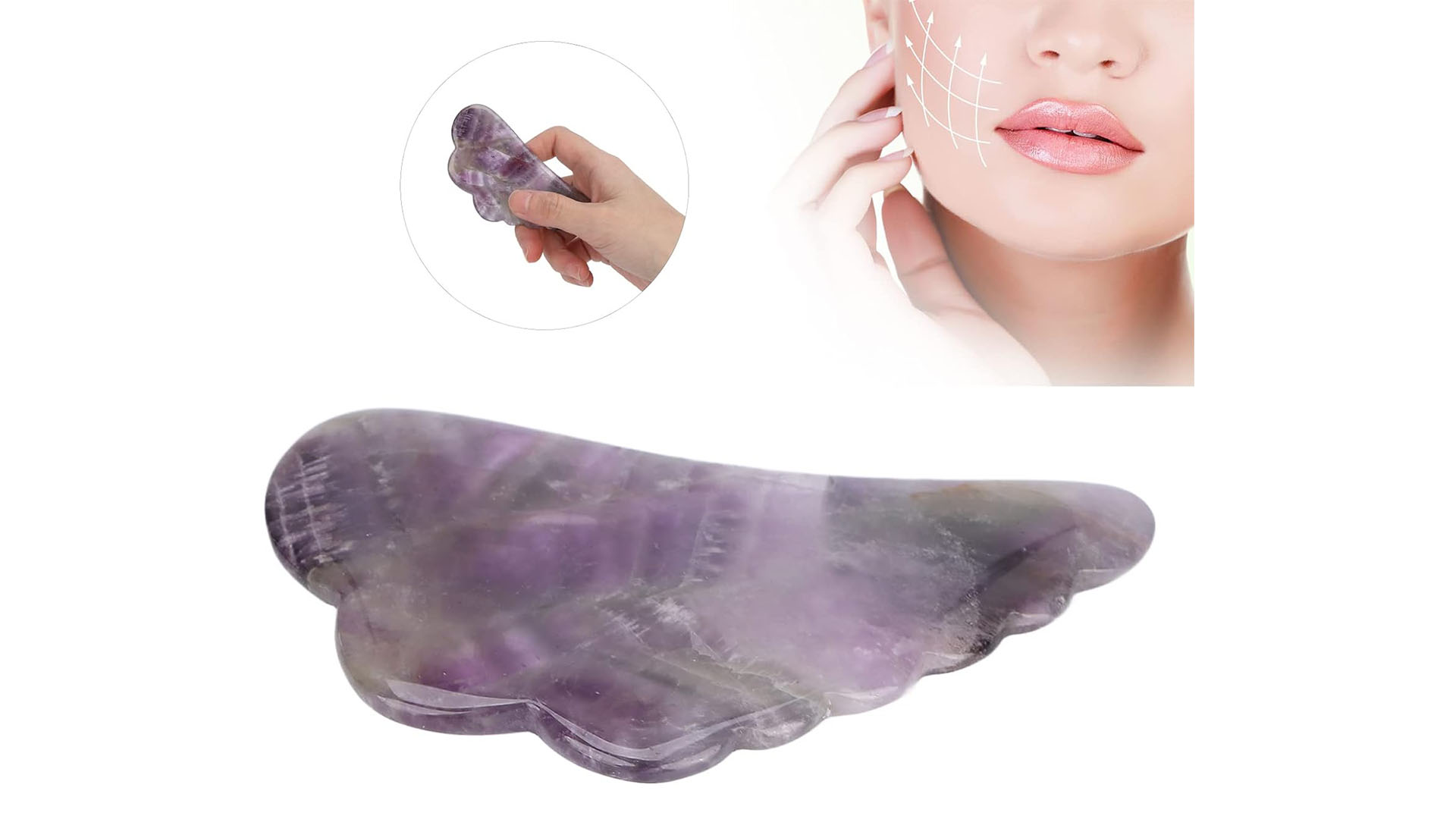 Amethyst gua sha tool, $26.44, Buy it from Amazon
Facial ice globe rollers (2 pack)
Ice globe rollers, $9.50, Buy it from Shopee
Stainless Steel Manual Guasha Scraping Tool
Steel gua sha tool, $9.98, Buy it from Amazon Original Jade Roller & Gua Sha Facial Tools (3 pcs)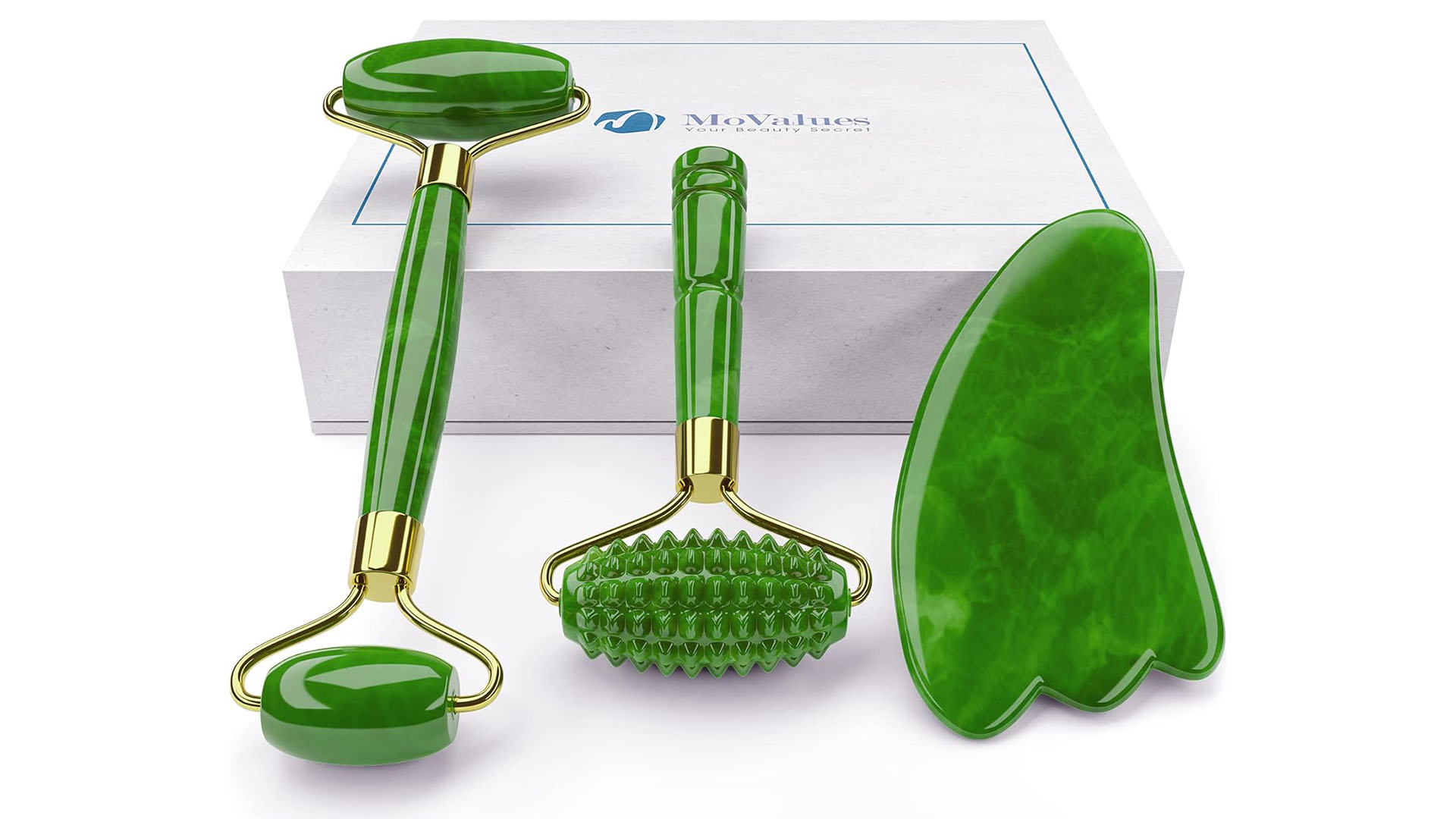 Jade gua sha set, $31.22, Buy it from Amazon
How to do facial gua sha: A step-by-step guide
1. Start in the middle of your forehead and work your way out toward the temples, all the way to the hairline. Repeat three times on each side.
2. Gently press and hold the tool under each eye, then over each eye, with the eyelid shut. Sweep the gua sha tool over the under eye area gently and out to the temple, all the way to the hairline. Repeat three times on each side.
3. Angle the tool at 45 degrees in an upward lifting motion, working it from your smile line and over your entire cheek. Do about eight sweeps in each direction.
4. Gently guide the tool from the middle of your chin along your jawline toward the ear. Move the tool behind the earlobe, and then down the neck to drain excess fluid into the lymph glands. Repeat three times on each side.
Pro tip: Place the gua sha tool in the fridge overnight, so it's nice and cool in the morning – ready for depuffing. You can also incorporate gua sha into your nightly routine after cleansing your face but before putting on any night creams. The improved circulation will help increase your products' absorption.